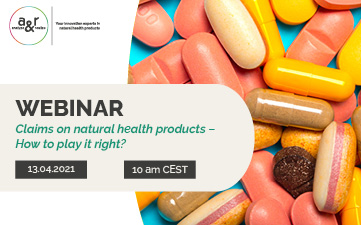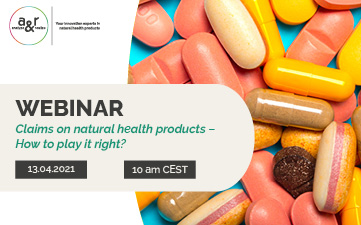 We are happy to invite you to the next instalment of our webinar series given by our expert Dr. Annegret Nielsen.
Claims on natural health products are a key element in communicating to consumers the product-specific benefits that influence purchasing decisions. Claims are often first validated in consumer research, and resonating claims are a second step driving product development followed by efforts to substantiate claims.
Product development should always be driven by consumer insight, i.e. placing consumers' needs and wishes at the center of the development. In addition, of course, the product characteristics and the legal framework also play an important role.
The webinar provides insights into how these aspects can best be combined to create an economically viable solution for innovative foods, dietary supplements, medical devices, and herbal medicines. This presentation will also provide an overview of how industry can find the best tailored claims strategy, be it for regulated or optional claims, for their products.
The following topics will be addressed:
What type of claim categories are available for the different product categories?
What is the regulatory framework?
What evidence is required for regulated claims and marketing claims?
Examples on how to best translate science into consumer-friendly language.
Date: 13 April 2021
Time: 10:00 to 10:45 am CET (15 min questions)