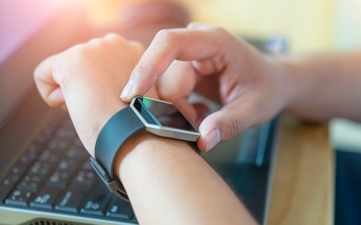 Wearable technologies have become increasingly popular in healthcare settings and clinical trials due to their innovation and growth over the past few years. In spite of the fact that most devices are marketed as lifestyle gadgets that track consumers' fitness and wellness levels, they are provided with powerful biosensors that offer great potential for clinical trials.
Particularly in response to the COVID-19 pandemic, as clinical research becomes even more decentralized and trial managers interact less with participants, technologies such as wearables and remote sample collection are becoming increasingly valuable to trial completion. In general, there is now an increased acceptance of telehealth models by patients and healthcare providers alike.
Wearables can be used to monitor different variables, such as vital signs and physical activity. From the numbers pulled from clincaltrials.gov, as of September 2022, more than 1,700 clinical trials with wearables are currently conducted, with about 650 of them having been completed. The functionality of these devices and the kinds of data that are fed into the database to be analyzed in these clinical studies include activity tracking, ECG, heart rate, heart rate variability, sleep, glucose monitoring, peripheral oxygen saturation (SpO2), haptics, UV tracking, and pressure sensors. For example, wearables for monitoring blood sugar are already widely used to track glucose levels in real-time throughout the day and night. A recent study also showed that the measurements of SpO2 obtained using the Apple Watch are reliable compared to the standard pulse oximetry technique in patients with cardiovascular disease.
Clinical trial models based on the integration of wearable devices and smartphones demonstrate compelling benefits, including:
Real-World-Data (RWD): Wearable technologies enable 24/7 data streaming and therefore continuous measurement of objective, repeatable, and quantifiable data throughout the day when the subjects follow their daily routines. This offers the opportunity to build richer patient health profiles.
It has been shown that using wearable devices in a majority of these trials improves effectiveness by lowering clinical site times and personnel requirements.
Accurate measurements to improve patient-reported outcomes (PRO) and deliver time-marked data to compare and verify PROs.
Wearables help in preventative medicine by sending alerts when health conditions deteriorate.
Using wearables in clinical trials also comes with many challenges, including accessing raw data from wearables, processing and analyzing massive amounts of data, and data security. Another obstacle to the use of wearables in clinical studies is the accuracy of the measurements, as they are often not certified as medical devices (CE certification). Therefore, not every wearable is automatically suitable and approved for medical use, but it is predicted that by 2025, 70% of clinical trials will incorporate wearables.