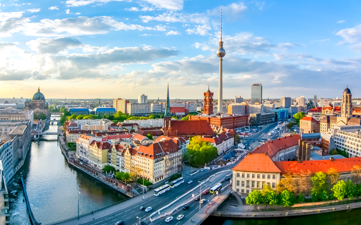 From October 29 to 30, 2022, ProVeg e.V., an international nutrition organization whose mission is reducing animal consumption, invited to the Third New Food Conference in Berlin.
It is Europe's first and biggest conference on alternative or new protein solutions, where innovative plant-based food concepts meet cellular agriculture and precision fermentation.
A small exhibition accompanied the two-days conference program, offering unique tasting experiences of emerging alternative protein products and showcasing innovative ingredients as well as equipment specifically suitable for plant-based foods.
Speakers came from formerly pioneering and now well-established companies of plant-based meat and dairy alternatives, successful start-up companies in the field of precision fermentation and cultured meat and seafood, market research agencies, regulatory consultancies, and activist organizations. The conference setting provided ample opportunity to learn, exchange, and connect.
The conference addressed the key issues that need to be solved for the food revolution to succeed: improving consumer acceptance of non-animal food alternatives including overcoming current texture and taste challenges, and the real impact of these approaches on sustainability.
In addition to the progress reported in precision fermentation and cultured meats and fish, fungal mycelia were presented as a cost-effective alternative for textured meat-like products. Fat alternatives are still niche products, but their relevance will certainly increase.
Some non-animal alternatives fall under the Novel Food regulation and require an authorization. In addition, it is still unclear how dairy, meat, or fish alternatives can be labelled. If a&r can support you in the development of your novel food alternative, please get in touch.