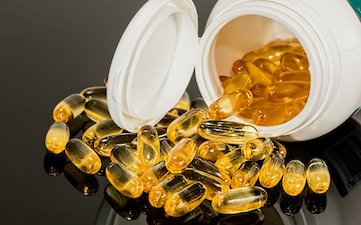 The Irish Joint Health Committee has recently published a report on vitamin D deficiency for Ireland, particularly in light of the Covid-19 pandemic.
Vitamin D deficiency has been reported in several chronic conditions associated with increased inflammation and dysregulation of the immune system suggesting its critical role in modulating immune function. Evidence given to the Committee confirmed not only the well-known effects of Vitamin D in supporting bone health and preventing osteoporosis, but also that it has an impact in assisting muscle strength. Inadequate level of vitamin D have also been associated with a number of diseases including metabolic disorders and autoimmune conditions, plus it has been linked with a significant increase in the likelihood of developing depression in later life 1–2. These findings are important given the high prevalence of Vitamin D deficiency amongst older populations (including the Irish), and that its supplementation has a low risk of toxicity or side effects.
More relevant in the context of Covid-19, Vitamin D is known to assist the immune system in fighting harmful bacteria and viruses, and to reduce the risk of Acute Respiratory Infection (ARI). Thus, the Covid-19 pandemic has highlighted the important role Vitamin D can play in the fight against SARS-CoV-2. Severe Covid-19 disease produces severe respiratory symptoms, especially in patients of an advanced age3.
Hence, the Irish Committee recommended four steps to address vitamin D deficiency, including a public health information campaign and the development of public health guidelines to raise awareness of vitamin D deficiency. In addition, citizens should have access to an inexpensive daily supplement of 20-25 µg vitamin D. It was proposed to reconsider the current VAT and to offer vitamin D supplements via Covid 19 test centers. The committee also called for specific measures for vulnerable groups, such as residents of nursing homes but also for frontline and healthcare workers.
Immune health has gained special consumer attention throughout the COVID-19 pandemic. Do you want to get insights into product formulations substantiated by science or are you looking for digital study designs? If yes, get in touch.