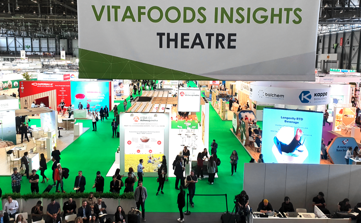 Earlier this month, Vitafoods, the biggest nutraceutical event in Europe, took place in Geneva. a&r was present to meet the leaders of the consumer healthcare industry in person. It was an exciting fair with many interesting conversations. We are looking forward to the upcoming projects in strategic innovation, regulatory consulting, and clinical trials.
In the following, we would like to give you a brief overview of our personal impressions of this year's fair:
Compared to recent years, there are more food supplements especially designed for children. The composition and formulations vary widely; in addition to the classic components such as vitamins and minerals, some ingredients that are questionable/dubious for children are also being used.
We have also observed that gummi formulations are no longer a niche product but have developed almost into a commodity. At present, the choice of nutraceutical gummy bears for adults and children is huge, as the technology is so advanced that off-flavours can be successfully masked.
With regard to the green transition, sustainability was an important topic throughout the event. This year, for the first time, Vitafoods had the Sustainability Resource Centre supporting brands doing exactly that.
Branded functional ingredients, especially botanical extracts, with various health indications backed by science and clinical studies were strongly represented. Scientific data, especially clinical trials, are generally seen as one way to differentiate and to generate uniqueness.
As before, branded ingredients for physical and cognitive performance seem to be on the rise, together with products designed for eye health, as more and more work and private time is spent on screens. One thing was for sure, everyone found what they were looking for at Vitafoods, because there were tailor-made solutions for all kinds of health issues presented. Many companies are now pursuing a holistic approach in terms of longevity, as all areas influence each other.