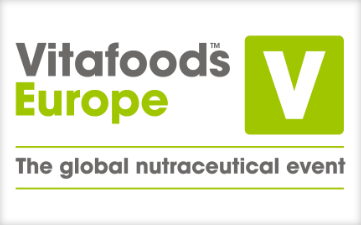 Vitafoods Europe is the perfect place to learn what is happening in the nutraceutical market. The show offers an excellent opportunity to engage in in-depth conversations with clients about opportunities in natural health products innovation. We hope you were able to find some time to stop by our booth and meet the team. We certainly had a great time meeting you. This year the show opened the doors to over 1,300 businesses and over 22,000 visitors.
During the event, we had the chance to chair a session on "Nutricosmetics: Eating for Beauty" by our experts Dr. Inês Rocha and Dr. Iris Hardewig. We also contributed with a talk on "Innovation in probiotics".
Nutricosmetics was definitely one of the buzzwords of this year's show. The innovation tour on this topic was completely overcrowded with participants. Although not a new concept, nutricosmetics are on the rise. However, they are bringing a new and deeper concept to the market, which does not only focus on the appearance of skin, hair, or nails per se, but is a more holistic approach to healthy aging. Today, consumers are taking more preventative, holistic, and eco-conscious approaches to their health, personal care and lifestyles. Thus, with the line between wellness and beauty blurring, if you feel good inside then this will show on the outside. It is no longer beauty for beauty's sake, but healthy beauty – the healthy glow.
Out of all the ingredients in this segment, collagen continues to show a strong presence. Brands are using collagen in various delivery formats to target beauty from within; they are adding it to waters and juices, and it was also found in individualized drinking sticks. New and innovative ingredients were also presented during the show in this segment such as DracoBell™ Nu from Mibelle Biochemisty, an ingredient from Moldavian Dragonhead (Dracocephalum moldavica).
Probiotics are here to stay, not only in the food supplement space but also in topical formulations, for instance targeting skin conditions such as atopic dermatitis (Symbio dermal by Symbio Pharma). With consumers gaining more and more awareness of probiotics and their potential health benefits, companies continue to invest more in clinical data to support their ingredients. New delivery systems also allow the combination of probiotics with other ingredients for specific health benefits, enabling the probiotics to be stable and inactive until they reach the intestine (e.g. Duocap™ combo for probiotics by Lonza-Capsugel).
Essential oils are also on the rise. We have seen them added to chewable softgels targeting sore throat and blocked nose (Respichew by Liv-Active), in combination with active ingredients in a smart capsule to be used in water bottles targeting detoxification, blood circulation and cellulite (from Robertet), as well as in antispasmodic preparations (Spasmoil from Solé Pharma).
The use of confectionary as well as snacks/functional beverages and healthy drinks played a big role this year. Brands continue to use healthy confectioneries such as fruit drops and gummies to drive innovation. Brands are also using bakery functional snacks (e.g. with a blend of botanical extracts to target cholesterol management, by EPO Srl) as well as drink formats (e.g. protein water by Friesland Campina with its whey protein isolate, or beauty collagen water by Weishardt with its fish collagen peptides) to deliver functional ingredients. Chewing gums were another big trend as an innovative delivery system. Chewing gums were available mixed with vitamins, e.g. K2vital, a gum containing vitamin K2 and vitamin D3 from Kappa Bioscience, or containing functional ingredients such as collagen, Aloe vera, or fibers (by Pissa, a confectionery manufacture solution based in Mexico).
Sustainability and traceability are also important keywords. Plant-based growth has been a key theme for several years, but the extent to which it would grow into the mainstream with both vegetarian and vegan options became clear during 2018. Consumers are demanding more transparency for products, searching for brands that they can trust and that have an environmentally friendly approach and consider animal welfare. Companies are thus increasing their portfolio of clean label supplement products, providing more vegetarian and vegan options for the delivery of food supplements with, for example, plant-based capsules addressing the growing demand for opaque capsules that do not include titanium dioxide (Vcaps Plus White Opal capsule by Lonza-Capsugel). Natural sources for vitamins and minerals continue to gain more and more importance. During the show, Naturex showcased Ultimine™, an organic source of iron produced using Koji fermentation technology. Also, discussions around the opportunities of blockchain for the food industry were discussed during the show.
Key health areas that caught our attention were eye/vision, recovery as well as energy boosters, sleep, liver, and brain health.
Personalized nutrition technologies also took center stage during the show. Experts in the field are pointing to the role of wearable devices, mobile apps, and forward-looking options such as genetic profiling.
As already noticeable in the last editions, the market of sport nutrition continues to rise with more and more consumers interested in healthy living and active lifestyles.
If you did not find the time to meet us but have questions regarding regulations, scientific marketing, strategic innovation, licensing and matchmaking, or clinical research, then get in touch today. We will be happy to support you!