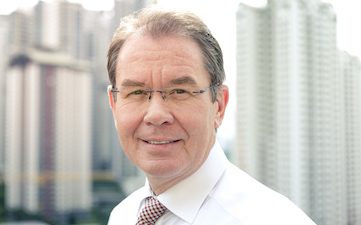 25 June 2020 – analyze & realize GmbH (a&r), the leading consulting and clinical research organization with specific focus on natural consumer health care products, is pleased to announce the appointment of Dr. Volker Schehlmann as new Managing Director.
This appointment by the a&r shareholders is another step towards further strengthening the company with specific expertise in innovation management and business development.
a&r will now be led by Dr. Volker Schehlmann and Mr. Matthias Miller.
Dr. Schehlmann has more than 25 years of international leadership experience with recognized innovators and manufacturers like BASF, DSM, InQpharm and Aenova.
Representing a&r's owners Bionexus LLC, Mr. Thomas Hafner commented: "The expertise of Volker will be of exceptional value to successfully steer a&r in the future and to ensure the continued excellent service our customers and the industry as a whole have come to expect of a&r."
Dr. Schehlmann replaces Dr. Andreas Schemenewitz, who has accepted a new position outside our company. "Dr. Schemenewitz has been instrumental to the success of a&r, having developed and established sustainable and long-lasting relationships with numerous clients and partners. Continuing this work remains the overarching objective of a&r and his successor. I am very grateful to Andreas and thank him for his impressive achievements", Mr. Hafner added.
a&r's second Managing Director, Matthias Miller, said: "I am delighted to welcome Volker as new Managing Director. Volker accumulated a wealth of knowledge in product development, regulatory affairs and clinical research to further expand our company building upon the great foundation Andreas has built over the last five years."
Dr. Volker Schehlmann stated: "I am grateful to have the trust of Matthias and the company, and I am truly looking forward to co-leading this fantastic team of experts in the consumer health care space. I have worked with the company and their founders for many years, and I am dedicated to continuing and expanding the great work done by so many here at a&r."