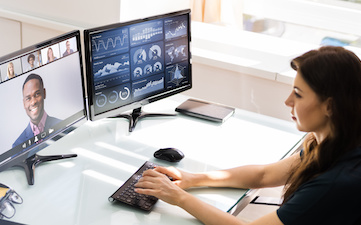 Health digitalization has skyrocketed due to the Covid pandemic. The pandemic not only accelerated remote care but also boosted consumer awareness in self-care. CROs also had to adapt and implement hybrid and decentralized approaches to manage clinical trials. Decentralized clinical trials are studies executed with the support of digital solutions and remote visits, whereas hybrid studies combine digital solutions with the traditional way of running trials. At a&r, we have also implemented such approaches.
In this case, the study started with a screening visit at the investigational site to check eligibility. Thereafter, subjects consumed the dietary supplement and recorded daily study relevant data in an electronic subject-reported outcome (eSRO) tool via their own smartphone, tablet, or PC.
The electronic questionnaire was sent to the participants on a daily basis via email or text message containing questions regarding study-specific benefits and tolerability outcomes.
In the meantime, the study team had a "live view" on enrollment data and subject progress by use of a connected dashboard and could quickly identify and re-engage subjects who had missed data entries, or find out whether any help was needed.
This hybrid approach made it much more convenient for subjects to participate, which led to a very fast recruitment of several hundreds of subjects in only a few months with a retention rate and compliance of over 95%.
Less on-site visits and faster recruitment greatly reduced overall costs compared to a traditional study approach.
a&r's flexible Decentralized Clinical Trials approach provides fully virtual and hybrid options. Contact us if you want to know more.
Suitable study indications for this kind of approach are studies mainly based on subjective endpoints as are used for research areas like gastrointestinal health (e.g. dyspepsia, obstipation, irritable bowel syndrome), immune health (e.g. common cold), mental health (e.g. stress, sleep complaints), women's/men's health (e.g. menopausal complaints, sexual function), skin health etc.